Our new website showcases the new brand and now properly reflects EFAD's role in European dietetics. It is a home for all of the work from our committees and our projects with our partners.
The new site:
Gives easy and clear access to all the work undertaken by our Committees and European Specialist Networks.
Provides a search function which means you can now search all of our documents and site content by keyword or topic.
Access to up to date news, announcements and all our free webinars.
Consistently and beautifully represents the new EFAD branding
Branding Journey
0. Workshops
We did a deep dive on our brand values, goals and key messages using Analogical thinking methodolgy. Creative workshops helped us to draw out what was important to us and what we wanted to say as an organisation.
1. Verbal layer
EFAD for the first time now has a cohesive understanding and persentation of the brand. We have a clear set of guideliens that we can share wtih any organisation the defines values, tone of voice alongside colours, logo representations and our key messages.
2. Visual layer
The logo was refreshed, while retaining its old character. The aim was to keep the classic character of the logo,while emphasising the power of the brand by strengthening the typography.
3. Key Visual
We introduced a new key visual into our communication which was inspired by the Food Pyramid. And from now on, the small triangle will accompany us wherever we go. This simple icon is the foundation for our future ecosystem for the brand.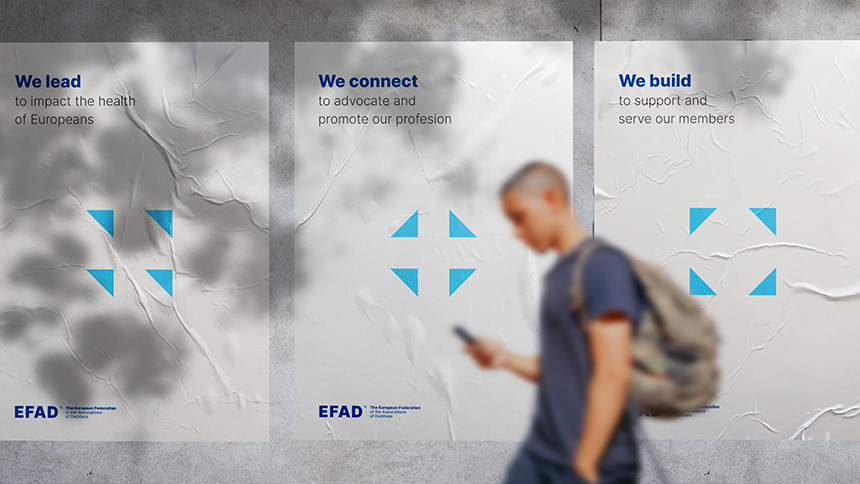 The new EFAD branding is now flexible and scalable to meet our long term needs. We can use it across all our activities from social to our annual congress and we have a consistent and exciting visual representaiotn of our ogrganisaiton.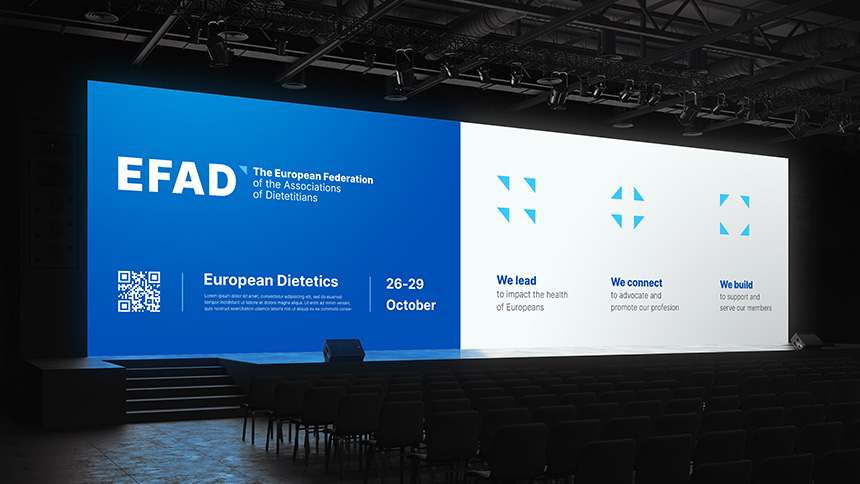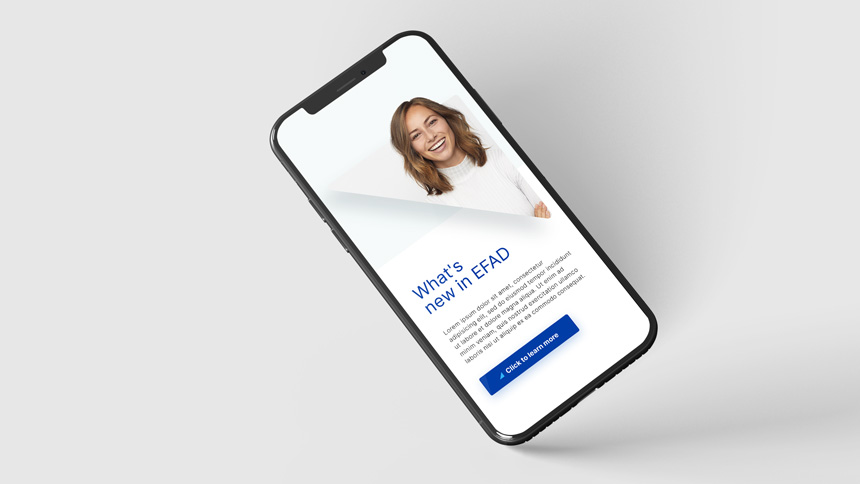 3. Ecosystem
EFAD now has the potential to create a stable of brands that are consistent with the parent EFAD brand. It will be easy to create clear and strong brand guidelines for the future services that EFAD will offer.
The first service in the stable was EFAD LEARNING – the new EFAD Learning and education platform that will support dietetic learning across Europe will launch soon and reflects the EFAD parent brand whilst having its own clear identity.
EFAD now has a strong and consistent brand that can transfer across a range of services and long into the future.
Thank you
EFAD would like to recognise the efforts of all our committee members and communication team who supported the development and launch of the site.
Specifically, we would also like to extend a big thank you to Reka Kegyes, Panda Marketing and Rachael Wright. Reka Kegyes for all her work with the content of the site, she was instrumental in getting us over the line. Panda Marketing was our partner of choice of this project and they did some great work with the branding and website development. Their workshops were an essential tool to draw out our key messages and their collaborative approach meant that they have become a real digital partner for EFAD going forward. Under the direction of Rachael Wright, who managed the project from strategy development, through the tender process to delivery, has transformed the digital presence of EFAD in this key communication space. Her pragmatic strategy and clear vision has helped our brand progress dramatically in a short period of time.
We appreciate that they all went above and beyond and believe the results reflect their hard efforts.