Increasing Healthy Hydration awareness has become a key element of the work of EFAD since 2015. EFAD in collaboration with experts on healthy hydration has launched the European Healthy Hydration Awareness Campaign (EuHHAC). EuHHAC aims at increasing awareness and knowledge of healthy hydration among dietitians and health professionals. Speakers will present and discuss: How we can optimise healthy hydration in dietetic practice and what is the role of dietitians.
During this webinar, we will hear from our expert speakers, Pauline Douglas an overview of the EuHHAC project and background evidence for the development of the EuHHAC Hydration Resources, Ezgi Kolay on the rationale and steps followed as well as "Hydration Resources" developed by the EUHHAC working group and from EuHHAC Hydration and Junior Hydration Ambassadors on the future steps of implementing EuHHAC into the dietetic practice.
All attendees who are filling out the post-webinar survey are receiving a Certificate of attendance.
We hope you enjoy the event!
Pauline Douglas
Project Manager @EuHHAC
Pauline has over 25 years of clinical and academic experience in dietetics. Her main teaching disciplines in the Nutrition Innovation Centre for Food and Health at Ulster University are in Professional Practice for dietetic students and dietetic practice educators and Nutrition Education of healthcare professionals. She has been the Key Contact for Ulster University in the European-funded "Dietitians Improving the Education and Training Standards (DIETS) project" and was a member of the Exploitation work package. She is a member of the Executive Committee of the European Federation of the Associations of Dietitians (EFAD). She has led and been an integral part of the European Healthy Hydration Awareness Campaign on behalf of EFAD over the past 8 years.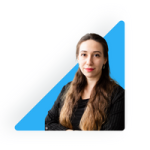 Ezgi Melody Kolay
Project Officer @EuHHAC
Ezgi Kolay is a dietitian holding a master's degree in food science and nutrition. She took part in public health nutrition research and currently working as a project officer on EuHHAC and Breakfast Toolkit projects at EFAD. She is also Joint-President of the European Network of Dietetic Students (ENDietS).