As the holiday season is upon us, we find ourselves reflecting on the past year and those who have helped to shape EFAD's mission and vision and bring our Strategic Plan into action.
Coming out of a global pandemic this year, we may have had many challenges ahead of us, but we managed to overcome them all and we are all very proud of all the important things we accomplished.
2022 was marked with many achievements with which we made a step forward towards our primary goal to improve nutritional health and promote sustainable diets.
The EFAD Learning Library was officially launched with three new online courses, podcasts and other educational materials that aim to take your learning in new directions and enhance your professional development. Our aim is to support your learning with diverse yet relevant topics that apply to daily professional challenges.
In October we held our face-to-face 33rd EFAD General Meeting in Budapest, after two years of meeting online. There we issued the EFAD Budapest Resolution, co-signed by the represented National Dietetic Associations.
The Budapest Resolution, completely in line with the International Declaration on the Human Right to Food, stresses that Every European citizen should have access to safe and appropriate nutritional care provided by dietitians to support a healthier population while leaving no one behind.
Very recently, WHO Europe responded to the Resolution and expressed their interest in EFAD's work and the contribution of dietitians in the prevention of NCDs, malnutrition and access to nutritional care. We, at EFAD, are fully committed to it and will work even harder this coming year to promote its objectives.
Achievements are a result of hard work, determination, and constant efforts. Working for this federation feels like being part of a family, and that's largely thanks to all of you. I'm grateful for your dedication, fairness, and overall leadership. It's been a great year, and I look forward to another great year ahead.
To our staff and networks of volunteers: We couldn't have had such a successful year without you. We appreciate all the hard work, effort, and dedication you have put in all year long. We couldn't have had such a successful year without you.
To our members and stakeholders: We are humbled and honoured to have such passionate and engaged partners on our side and we consider you to be a major part of our successes. We truly value your trust and collaboration.
And one more thing; Here at EFAD, we want to give thanks to all European Dietitians that constantly support us and give us the courage to keep fighting and serving our profession and science.
Happy Holidays from all of us at EFAD. We hope you have a much-deserved break and a very happy festive season, and we warmly wish you all the best for the new year.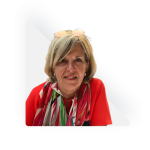 Annemieke van Ginkel-Res
EFAD Honorary President